Energy generation with a positive climate impact
Vienna Neustadt inaugurates new dry fermentation system
A flagship project that sets a precedent: in the future, 7,500 tonnes of biogenic waste, mainly from municipal organic waste bins, will be recycled in a climate-friendly way each year in Vienna Neustadt. The new PÖTTINGER dry fermentation system was officially inaugurated at the WNSKS facility on Friday, 25 October 2019.
Following a construction period of just nine months, commissioning of a second biogas system has now been completed in Vienna Neustadt. Fifteen fermenter containers and one technology container are at the heart of this new climate-friendly recycling system.
Numerous business and political leaders attended the official inauguration at the site of the waste treatment plant in Vienna Neustadt on Friday morning. Councillor Franz Dinhobl welcomed the guests and emphasised "... that Vienna Neustadt is the first urban administration in Austria to use the innovative dry fermentation procedure."
PÖTTINGER Fermenter Managing Director Dr Guntram Bock explained to the guests how it works: "Using the 3-A procedure, biogenic waste – from green waste to household organic waste – is effectively and efficiently recycled inside the fermenters, thereby generating completely CO2-neutral electricity and heat."
Klaus Pöttinger, owner of the One World Group, is also very satisfied: "We are delighted that our technology is being used on a larger scale within this project. We need pioneers for bio-economic technologies, especially in the municipal sector, in order to achieve our national climate targets by 2030."
Local Mayor Klaus Schneeberger spoke to the guests and praised the smooth implementation of the project. Further, he reaffirmed the urban administration's strong commitment to climate protection in the future and in other areas. After several musical interludes featuring works by the composer Josef Matthias Hauer, who was born in Vienna Neustadt, the system was finally inaugurated and then blessed by the cathedral provost Karl Pichelbauer. Afterwards, a buffet with musical accompaniment offered the opportunity to exchange ideas and to conclude the inauguration ceremony in a relaxing atmosphere.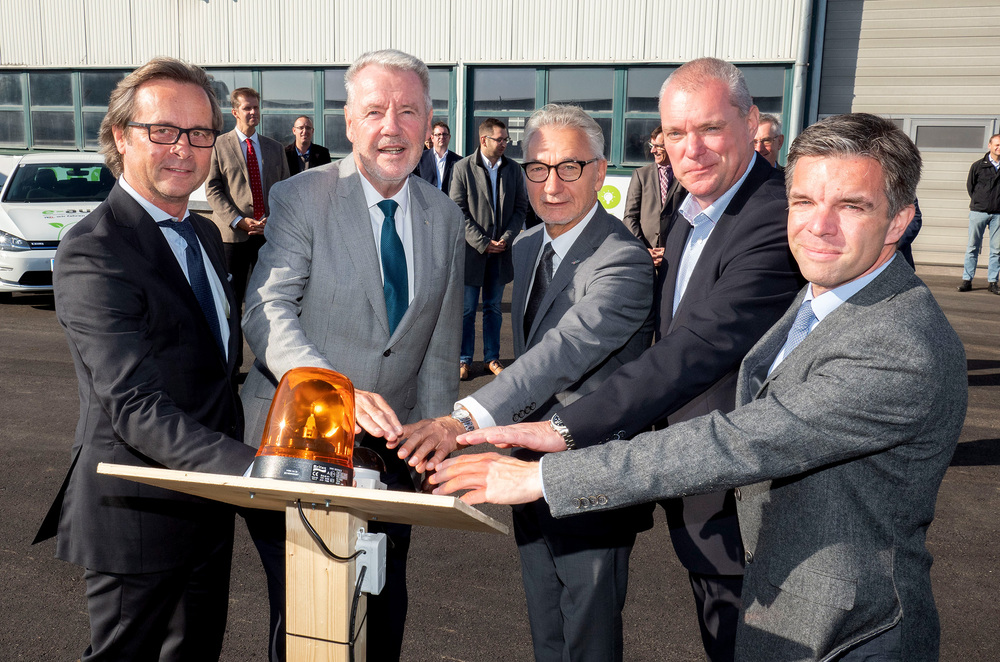 Guntram Bock (Geschäftsführer Pöttinger Entsorgungstechnik GmbH), Bürgermeister Klaus Schneeberger, Franz Berger (GF wnsks GmbH), Rudolf-Udo Wiesmüller (Leiter Abfallwirtschaft) und Peter Eckhart (Geschäftsführer wnsks GmbH)
Further information at www.wntv.at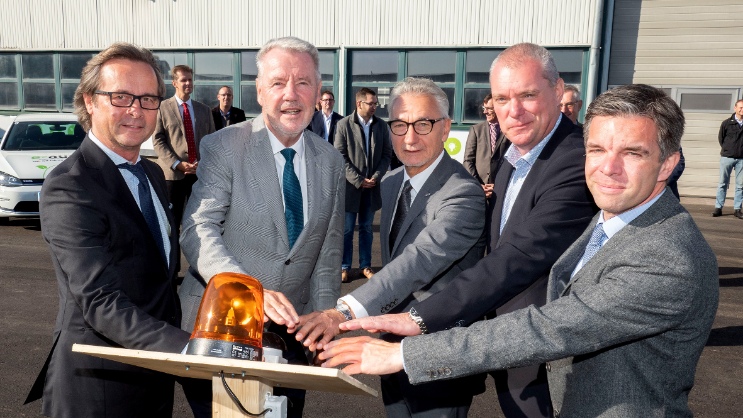 back