Ground-breaking ceremony in Vienna Neustadt
The project for a dry fermentation system using the 3-A procedure was officially launched in Vienna Neustadt on 22 February 2019.
Vienna Neustadt is therefore the first urban administration in Austria to use our innovative and climate-friendly technology.
When completed as planned at the end of 2019, around 7,500 tonnes of biogenic waste from municipal organic waste bins will be upgraded to high-quality raw compost in 15 fermenter containers and will offset in-house energy consumption through the generation of biogas, electricity and heat. Vienna Neustadt will therefore not only be able to generate climate-neutral energy with its new fermentation system but also save around 700 tonnes of CO2 annually - a clear commitment to climate protection.
Numerous industry and political figures celebrated the ground-breaking ceremony at the site of the existing waste treatment plant on 22 February 2019. Mayor Klaus Schneeberger and Councillor Franz Dinhobl emphasised that construction of the system means "two important steps towards shaping the future". On the one hand, waste can be recycled in a more efficient manner and, on the other, green electricity and ecologically viable heat will be generated. Klaus Pöttinger, owner of the PÖTTINGER One World Group, also underlined the importance of the new build: "The new dry fermentation system allows Vienna Neustadt to send a clear and unambiguous signal about climate protection. We are delighted that the environmentally responsible use of natural resources and biogenic waste is so important here. A pioneering project that should set a precedent."




v.l.: Mag. Peter Eckhart (CEO wnsks GmbH), NR Hans Rädler, Councillor Horst Karas, Councillor DI Franz Dinhobl, Mayor Mag. Klaus Schneeberger, DI Klaus Pöttinger (Owner PÖTTINGER One World Group), DI Franz Berger (CEO wnsks GmbH), Councillor Philipp Gerstenmayer
Key data about the dry fermentation system:
| | |
| --- | --- |
| General contractor: | Pöttinger Entsorgungstechnik GmbH & Co. KG, Grieskirchen, Austria |
| Construction period: | Approx. 9 months |
| Service life: | 20 years |
| Scope of the project: | Installation of 15 fermenter containers and a technology container to the east of the existing compost site. |
| Recycling technology: | Dry fermentation of biogenic waste according to the 3-A procedure (aerobic – anaerobic – aerobic) |
| Input: | Approx. 7,500 tonnes of material from municipal organic waste bins of Vienna Neustadt, city and federal state |
| Output: | Generation of 1,200,000 kWh of electricity, primarily to offset energy consumption of the waste treatment plant in Vienna Neustadt |
| CO2 savings: | Approx. 700 tonnes annually |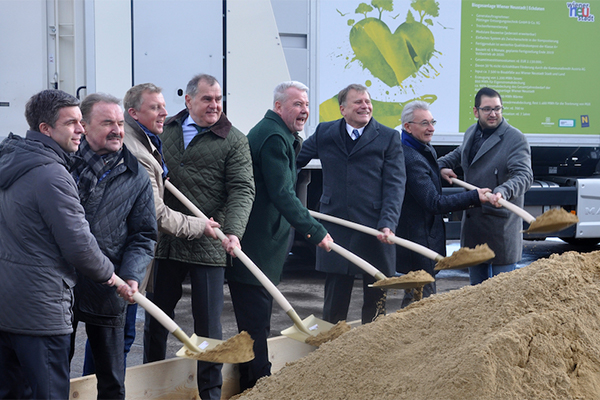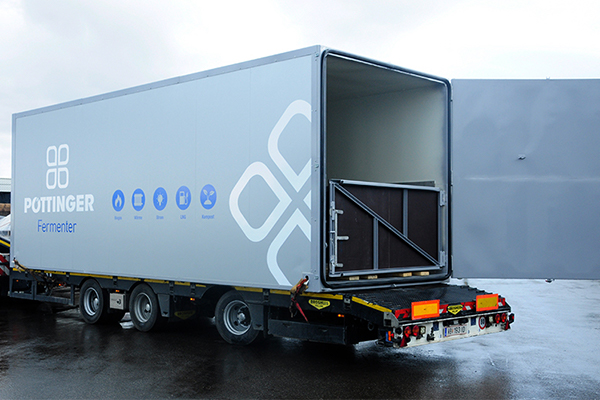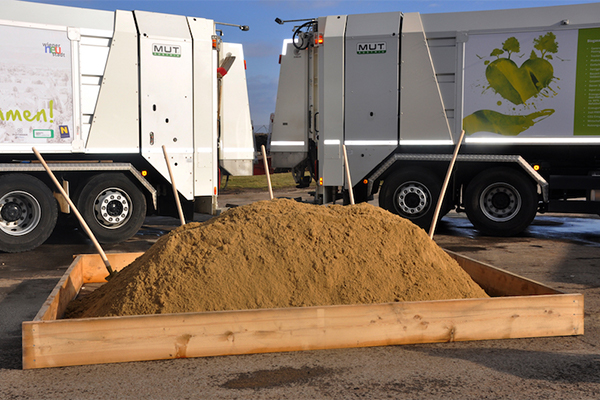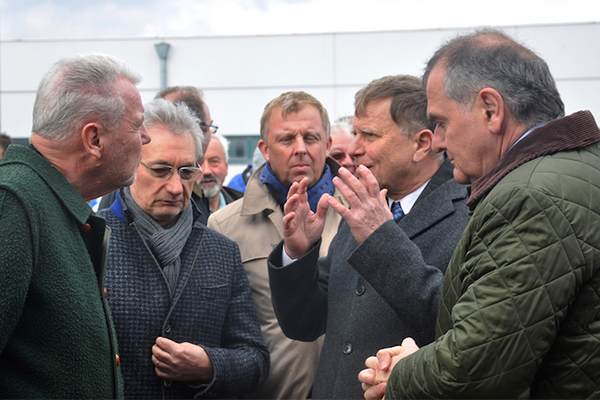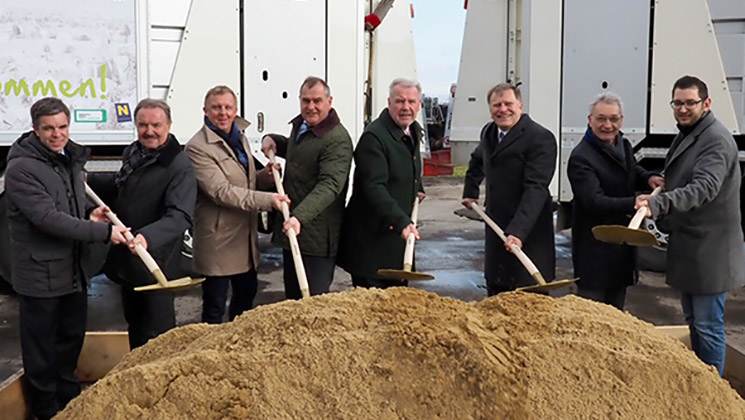 back